On October 29th, new members of the Yale chapter of Engineers without Borders put their design abilities to the test during a EWB bridge competition. This night of competition was the culmination of several weeks of work on the part of new EWB members, who were split into several teams. Each team had to design a bridge that could span a 1' gap and transport a small toy ATV (nicknamed "Dave" after Yale chapter mentor Dave Sacco). Additional points were to be awarded based on the ratio of the weight that the bridge supported to the bridge's own weight.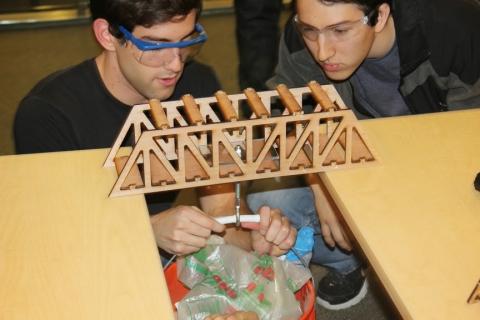 Above: EWB members prepare to test the strength of a bridge
During the process, experienced EWB members provided critical support. They held a CAD workshop to teach new members how to create a bridge design on Solidworks, gave out advice throughout the process, and laser cut the 2'x 2' x 7/32" wood board used as the building material for the bridge. This combination of new members' enthusiasm and experienced members' expertise proved effective, as none of the bridges built collapsed when a large bucket of sand was attached to the bridges. The bridge designs were a success and new members will be able to use this experience in their future endeavors.
(Authored by Mitchell Weldon)