Engineers Without Borders is a non-profit humanitarian organization established to partner with developing communities worldwide in order to improve their quality of life. This partnership involves the implementation of sustainable engineering projects, while involving and training internationally responsible engineers and engineering students.
Who We Are
Since our founding in 2004, EWB-Yale has been fortunate to work with communities in Honduras and Cameroon on projects improving water and sanitation systems. A registered undergraduate organization, we have students from a wide variety of academic backgrounds, and extremely dedicated mentors, faculty advisors, alumni and collaborators on both sides of the Atlantic. In 2011, EWB-Yale was honored with a Premier Project reward from EWB-USA. Read the press release here.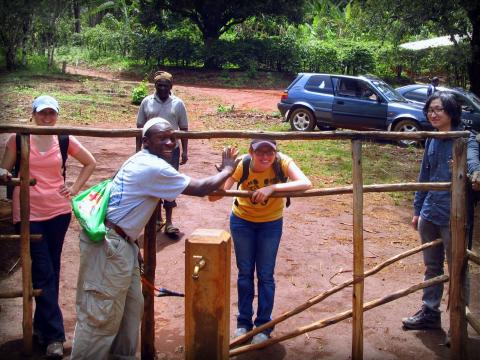 Our New Project in Rohvitangitaa (Roh), Cameroon
EWB-Yale adopted the Roh project in 2012 with hopes of improvoing a gravity-fed water distribution system that was originally built in 2006 that will improve access to clean water and reduce the incidence of water-borne illness. A significant portion of this project focuses on health and health education. 
Visit our project page for Roh for more information
Read the Yale School of Engineering News Article.
Kikoo Cameroon: 2006-2012
From 2006-2012, EWB-Yale worked with the community of Kikoo, Cameroon to construct a gravity-fed water distribution system to provide a consistent source of clean water, conducted post-implementation health surveys and education on waterborne diseases, and implemented further sanitation measures such as the installation of ventilated improved pit (VIP) latrines.
Visit our project page for Kikoo
Read more about our previous work in Cameroon in the Yale Engineering Magazine.
Contact us or learn more about our team. We are always looking for sponsors to support us - every tax-deductible contribution helps.
EWB Newsletters:
---