Our team is made up of students, staff, and off-campus mentors. We have extremely dedicated students from both the undergraduate and graduate schools, as well as amazing professional mentors and faculty advisors. Our membership is open to all those with a similar commitment to success, as well as the imagination and dedication to bring our projects to fruition.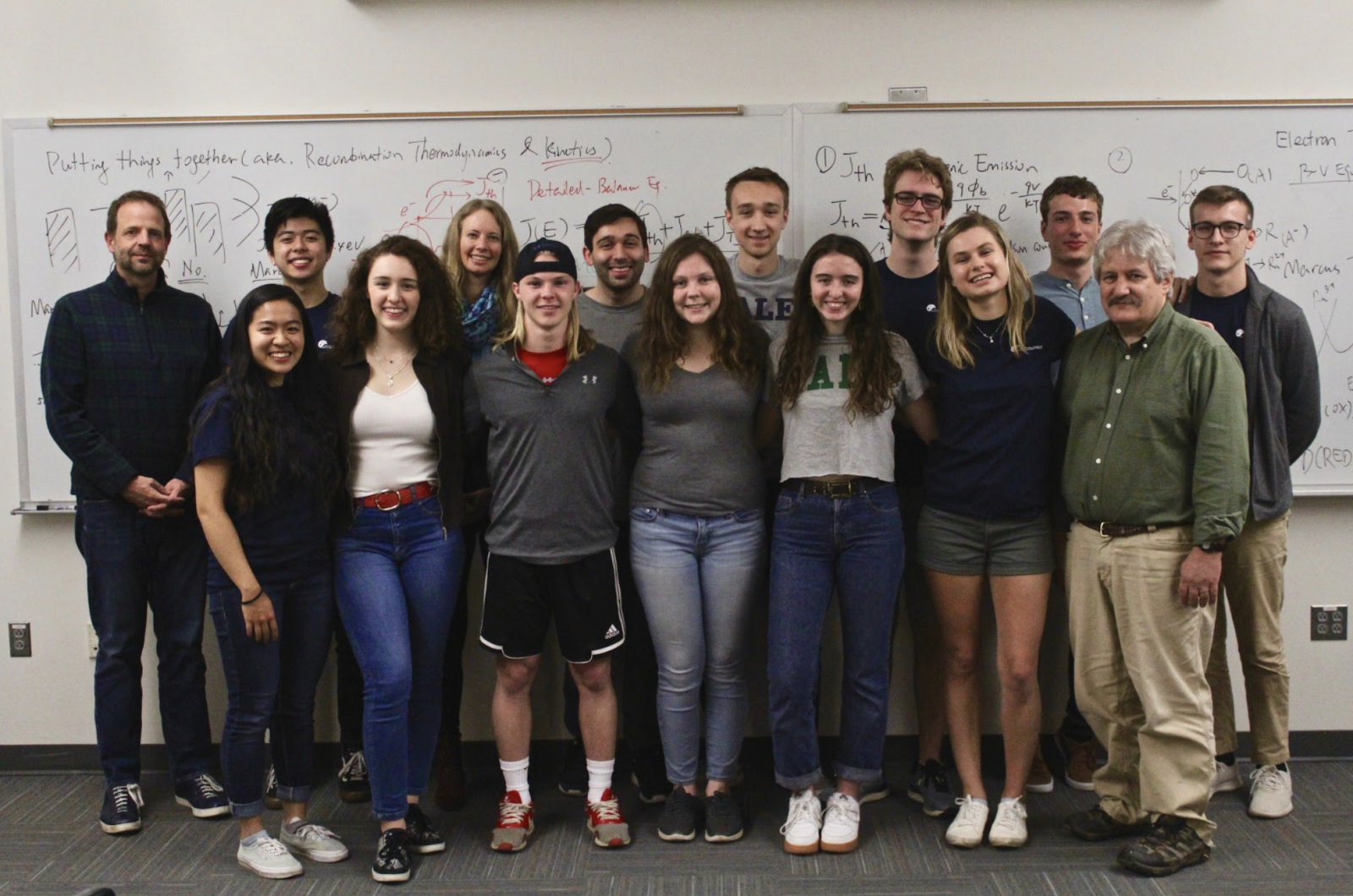 What we do:
On campus
Project-specific technical training and workshops for all members, lunch talks, research presentations
Bringing  in campus-wide events such as Water Week and the Public Health Coalition lunch speaker series
Member of Yale Public Health Coalition and Dwight Hall Center for Public Service and Social Justice
Worldwide
2017-2023: Naitolia, Tanzania
2012-2017: Roh, Cameroon
2006-2012: Kikoo, Cameroon
2005-2006: El Rosario, Honduras
Our parent organization EWB-USA is a registered 501(c)3 non-profit with over 250 student and professional chapters. Since its inception at the University of Colorado in 2000, it has grown to more than 350 projects and 12,000 members nationwide.
Members
Student Officers
President

Matilda Vary (she/her)

Bio: Matilda is a sophomore in Pauli Murray College majoring in mechanical engineering. She is also a part of the energy studies certificate program. In addition to EWB, she is involved in the Yale Undergraduate Aerospace Association, FIRST at Yale, and WISAY.

Fun Fact: The only other Matilda I have met is a koala.

 
Vice President

Rebecca Rubright (she/her)

Bio: Becca is a senior in the biomedical engineering major. She grew up in New Jersey, outside of Philadelphia. She likes designing water projects, doing puzzles, and her cat, Pumpkin.

Fun Fact: Becca has studied in four (soon to be 5) countries outside the US.

 
Design Leads

Anna Oehlerking (she/her)

Bio:  Anna is a double major in Environmental Engineering and Ecology and Evolutionary Biology. She is a member of the Trap and Skeet, Climbing, Fishing, and Alpine Ski teams here at Yale, and she is super excited to see what Yale EWB will accomplish this year!

Fun Fact: My favorite word is Aquarium because it was my first word!

Max Werner (he/him)

Bio: Max is a sophomore from Northern Michigan majoring in environmental engineering and energy studies. He joined EWB in the fall of 2022 and is very excited to be a lead on our new project. He enjoys hiking, skiing and climbing when he is not tied up with school work.

Health Lead

 Cosima Deetman (she/her)

Bio:  Cosima is a sophomore in Branford College. She is majoring in environmental engineering, with a certificate in German and energy studies. In addition to her involvement with EWB, she plays on Yale's ultimate frisbee team, is a FOOT leader, and works in an engineering lab. She enjoys cycling along the canals back home in London and going for long walks with her dog, Georgie.

Fun Fact: My favourite animal is a mountain goat.

 
Financial Lead

Ana Sofia Viejo Barragan (she/her)

Bio:  Ana Sofia is from Monterrey, Mexico, and is currently a Sophomore at Pauli Murray College. She is double majoring in Economics and Psychology, and is interested in social issues related to global health and development. In her free time, she enjoys reading (novels, preferably) and hanging out with friends :)

Fun Fact: I have never taken (and will probably never take) an Engineering class at Yale.

 
Treasurer

Freddy Ramon (he/him)

Bio: Freddy is from Long Beach, New York and was a former lifeguard at the beach. He enjoys playing sports like basketball and swimming, and likes to spend time with friends and family as well as his two dogs.

Fun Fact: I'm a huge New York Jets fan, and enjoy playing fantasy football.

 
Events Directors

Lana Zheng (she/her)

Bio: Lana (BK'25) is a Molecular Biophysics & Biochemistry major from New York. She enjoys working in her neuroscience lab, hosting a show on Yale Radio, practicing ice skating, and eating fries at the Ivy.

Fun Fact: I have been working on my first crochet scarf project for almost a year because I am unable to count stitches :").

Kate Van Tassel (she/her)

Bio: Kate is a chemical or biomedical engineering major (still undecided) from New Haven, Connecticut. When she is not doing school work, she loves to play soccer with the Yale Women's Club Soccer Team and sings a cappella with Something Extra.

Fun Fact: 

My favorite ice cream is chocolate with dark chocolate chunk (from Arethusa)!

PR Lead

Shahribonu Azamatova (she/her)

Bio: Shahribonu (she/her), is a sophomore in Pauli Murray. She is majoring in Chemical Engineering and  is the Social Lead for Spring and Fall 2023 for the EWB chapter at Yale.

Fun Fact: I was born in Uzbekistan and speak seven languages!

 
Faculty Advisor: 
Jordan Peccia, Chemical & Environmental Engineering
Bio: https://sites.google.com/yale.edu/peccialab?pli=1
Professional Mentors:
David Sacco
Bio: Dave is a civil engineer in New Haven, Connecticut.  His path to EWB ran through Gabon (Peace Corps), Sri Lanka (UN Volunteer), Kosovo (ADRA), Nigeria (Partners for Development) and the DR Congo (IRC).
Fun Fact: I can count to ten in Bateke.